Everybody likes Mamba!
Fun fruit-flavoured chews
Mamba chews have been popular with children and adults alike for over 70 years. The delicious fruity chew treats are available in a range of tasty varieties, and the practical packs are also great for sharing. What is your favourite flavour?
Mamba Cola & Friends Orange
Mamba Cola & Friends Lemon
Mamba Cola & Friends Cherry
Mamba Tropics Pineapple-Coconut
Mamba Tropics Peach-Passionfruit
Over 70 years of Mamba – The success story of the most fanciful and fruitiest chew brand.
Since 2019
And the fun goes on
For 70 years, the chews delivered a brilliant performance only in shape of the classic blocks. But Mamba wouldn't be Mamba if it stopped here! Since 2019, chewing fans in many countries get excited about the new Magic Sticks: They not only come in a playful shape, but also with a changing taste. At the same time, the Mamba Fruit Surfer was launched and performed well through its cool stripe shape.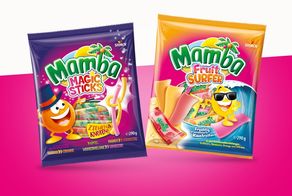 Since 2012
Limited Editions
In 2012, Mamba Duo and Mamba Magic were launched. The two-fruit varieties and a "magic fruit enchanter" bring a lot of variety into the chewing world. Since 2015, Mamba Tropics instantly beams us to Mamba island with its exotic flavours.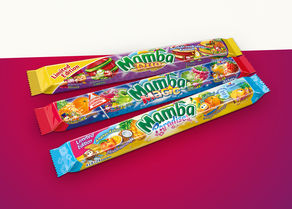 2007
Variety is the spice of life!
Even though the Mamba success story has already lasted for over 60 years, the brand has always remained fresh. Mamba keeps on reinventing itself and always guarantees long-lasting fruity chewing fun with new assortments. In 2007, Mamba Sour was launched, followed by Mamba Cola.
1986
Mamba goes around the world
For many years now, Mamba chews have also been popular throughout the world, way beyond Germany. Mamba was successfully launched on the US American market in 1986. In the 1990s, it was introduced in other major sales markets such as Poland and Russia. In these countries, Mamba is one of the most popular brands of chewy candy.
1953
The success story of Mamba begins
In 1953, the success story of the Mamba brand starts in Germany. The Mamba bricks come with six yummy chews. Everyone loves Mamba instantly because of its intense fruit flavour and the chewing fun.