Everybody likes Mamba!
Fun fruit-flavoured chews
Mamba chews have been popular with children and adults alike for over 60 years. The delicious fruity chew treats are available in a range of tasty varieties, and the practical packs are also great for sharing. What is your favourite flavour?
60 years of Mamba – the story of an eternally young brand
Since 2012
Limited editions
Mamba Duo and Mamba Magic were launched as limited editions. With two-fruit varieties and a "magic fruit enchanter", each limited edition variety is a new taste experience. The latest addition to the limited edition family is Mamba Paradise, featuring the unique flavours of tropical fruits. It was launched in the summer of 2015.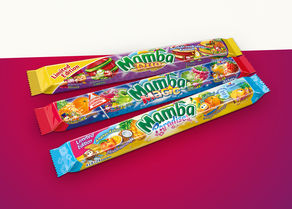 2007
Variety is the spice of life!
Even though the Mamba success story has already lasted for over 60 years, the brand has always remained fresh. It keeps on reinventing itself in response to the ever changing consumer taste preferences. The first innovation was Mamba Sour, a range consisting of sour varieties, followed by the refreshing Mamba Cola.
1986
Mamba discovers the big wide world
For many years now, Mamba chews have also been popular throughout the world, way beyond Germany. Mamba was successfully launched on the US American market in 1986. In the 1990s, it was introduced in other major sales markets such as Poland or Russia. In these countries, Mamba is one of the best-known and most popular brands of chewy candy.
1953
Mamba launched on the German market
Mamba chewy candy started its career in Germany in 1953. The tastiness, and also the affordable price, makes the small packs of Mamba with six chews each an immediate hit.