All you need is one good RIESEN.
The first branded candy
RIESEN was Germany's very first candy brand. RIESEN fans all over the world still love the particularly intensive chocolaty taste. The secret lies in the rich caramel filling, which is enrobed by a thick layer of dark chocolate.
From "Storck's 1 Penny RIESEN" to today: the history of Germany's first candy brand.
2016
RIESEN Milk chocolate
Our popular RIESEN is launched with milk chocolate for the new RIESEN enjoyment.
2015
RIESEN worldwide
RIESEN is still as successful today and now available in more than 50 countries.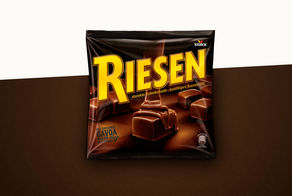 2008
RIESEN's Got Talent
Under the motto "Hammer it, saw it and win", RIESEN organised the European DIY Championships in 2008. A competition that certainly packed a punch!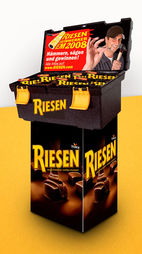 2005
Everybody's talking about it
Show that you're got what it takes: the new promotional campaign "Chocolate for serious experts" featured large-scale posters and newspaper advertisements.
1999
Just try it!
A new look for even more taste: RIESEN was given a new, modern packaging design in 1999. Thanks to intensive product research, the new RIESEN provided an even more intensive taste experience and became even more chocolaty. The advertising campaign said it all: "Just try it!"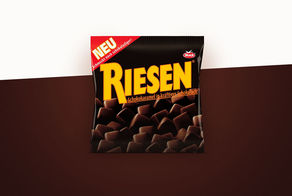 1996
RIESEN Chocolate Chew
RIESEN's success continued: together, chocolate and the basic idea of an extra long-lasting chewy treat resulted in the RIESEN Chocolate Chew – which became extremely popular.
1974
Simply SUPER
Even bigger and better: RIESEN became SUPER RIESEN. As an additional purchasing incentive, each pack featured a "Schleck" cartoon and football tips from German football icon Helmut Haller.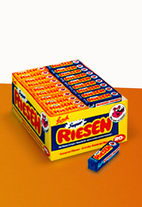 1949
1 Penny, 2 Penny
The successful product was renamed into "2 Penny RIESEN" and was now also available in different flavors, e.g. chocolate caramel.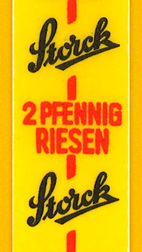 1934
RIESEN – a huge story
Early, earliest, Storck: Germany's first candy brand was created in 1934: "Storck 1 Penny RIESEN", individually wrapped and initially a caramel candy.