Celebrate in style
with Bendicks

Wonderfully intense
The Bendicks story began in 1930 when founders Mr Oscar Benson and Colonel Bertie Dickson produced the first ever Bendicks after dinner mint chocolates, establishing an unrivalled reputation for perfection. Bendicks is proud of its long, rich heritage dating back over 90 years as well as being known for quality and excellence.
Bendicks Bittermints 400g
Bendicks Bittermints 200g
Bendicks Mint Collection 400g
Bendicks Mint Collection 200g
Step in to a world steeped in heritage and tradition
Bendicks Today
Bendicks continues to provide chocolate perfection
Bendicks has been renowned for delivering excellence for over 80 years and is seen by many as the best after dinner mint. We use only the highest quality ingredients for each recipe and will continue to honour its reputation for perfection for decades to come.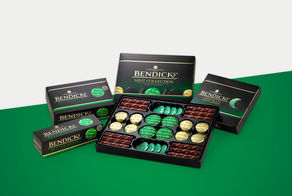 1988
Bendicks becomes part of the Storck family
1962
The Royal Warrant
Bendicks reputation for the finest after dinner mint chocolates was officially recognised when the company was granted a Royal Warrant, 'By Appointment to Her Majesty The Queen'. A prestigious, Royal seal of approval that Bendicks proudly displayed on its packs and shops, confirming the quality and excellence for which they were famous.

1933
A phenomenal success
Bendicks developed an unrivalled reputation for quality and excellence, and a new store was opened in the heart of London's exclusive Mayfair. The elite new store attracted the most discerning of customers. The company soon became famous across the globe as Bendicks of Mayfair.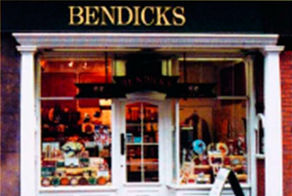 1931
The birth of our unique Bittermints
Lucia Benson, Oscar Benson's sister-in-law, develops a remarkable mint chocolate recipe. She enrobes mint fondant, which is almost too intense in taste, in dark 95% cocoa solids chocolate, which is almost too bitter, creating the world-famous Bittermint.
1930
The story of Bendicks begins
Mr Oscar Benson and Colonel "Bertie" Dickson open a small confectionery business at an unassuming address: 184 Church Street, Kensington, London.