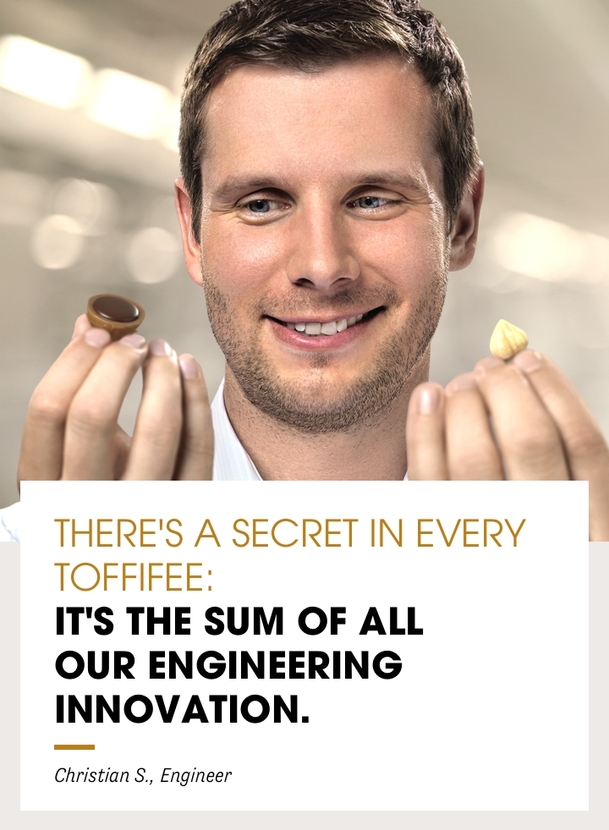 Working for Storck in the Technology area
As an engineer, do you enjoy seeing a project through from the planning to the operational stage? You like nothing better than finding solutions to technically complex challenges? Then Storck's Technology department is bound to be the right place for you!
Our staff in the "Central Technology" and "Industrial Engineering" departments are responsible for the implementation of all technical and building investments throughout the Storck Group.
At our location in Halle (Westphalia) in Germany, more than 200 specialists look after the construction and installation of new plant and equipment, and the optimisation and realisation of major projects. At the individual locations, they are supported by a three-figure number of staff who ensure that the production processes run smoothly.
The wide variety of the products made by Storck adds a "sweet" touch to their work, because the different chocolates, pralines, hard and soft candies, toffees and caramels, chews, lollies and chocolate covered marshmallows all call for specialised equipment. No working day is the same! Storck products are manufactured on state-of-the-art, fully-automated production lines strictly according to GMP standards.
Our developer teams include specialists from all sorts of different areas of engineering, for example process technology, packaging development and electrical engineering, and also mechanical engineers and technical project managers. Together, they solve extremely complex technical issues. This also guarantees constant professional development beyond the own area of expertise, and creates exciting prospects.
Sounds interesting? Would you like to develop your already existing expertise further with us?